Diego's Web Page
Domestic Medium Hair (medium coat) : : Male (neutered) : : Young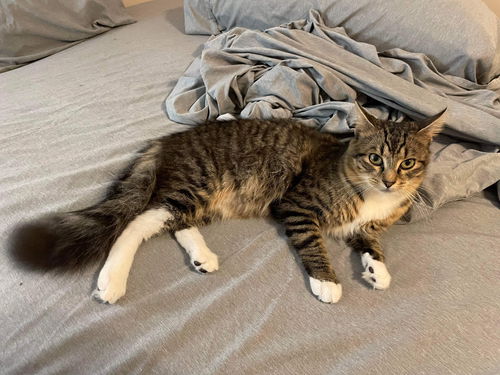 I would love you more than you can imagine.
Please adopt me!
Print an adoption flyer for Diego!
Please Note: This animal is listed as a courtesy to another organization. Please be sure to contact the foster/caretaker for more information about him.
All dogs listed here are available for adoption from Yorkie Rescue Houston. Our goal is to ensure our rescued pets go to their forever home and never end up back in the system. To that end, an application is required on all potential adopters. Our adoption fee varies by dog. We accept electronic funds via VENMO or Paypal, or cash only.
Puppies too young to be spayed/neutered are available for Foster-to-Adopt only. A FTA contract is required.
About Diego

Status: Available for Adoption (adoption info)
Species: Cat
Rescue ID: 22-0050
General Color: Gray (Mostly)
Color: Gray with white paws / Tabby
Distinguishing Marks: Very fluffy tail
Current Age: 1 Year 9 Months (best estimate)

Declawed: No
Housetrained: Yes
Grooming Needs: Low
Owner Experience Needed: Species
Diego was rescued from a dumpster with his siblings at the age of two weeks and brought to his foster home to be bottle-fed. Diego has grown into a very handsome cat with a strong personality. He's a chatty and smart cat who does not hesitate to vocalize whenever he needs to complain about something, but he's also a playful and affectionate cat who turns into a purring machine when he's being petted. Diego has been vaccinated, combo-tested, microchipped and neutered and is looking for his forever home.
More about Diego
Good with Dogs
,
Good with Cats
,
Good with Kids
,
Good with Adults
,
Likes to play with toys
,
Likes to be in your lap
,
Playful
,
Affectionate
,
Intelligent
Yorkie Rescue Houston is a 501(c)(3) charity as defined by the I.R.S. All donations* are deductible within the limits set by them. Your donations go toward medical exams, vaccinations, spay & neuter, medications, Heartworm treatment and prevention, supplies, boarding, training. We rely 100% on donations from the public. Please consider a becoming a sponsor or monthly donor! You can send us donations via paypal to donate@yorkierescuehouston.org
or, through the paypal giving fund
Thank you for your support.
*Adoption fees are not deductible